Infrastructure
Reliance Life Sciences operates state-of-the-art facilities in life sciences domain.
The flagship facility is the Dhirubhai Ambani Life Sciences Centre (DALC) in Navi Mumbai, spread over 20 acres. DALC is among the most diverse and integrated life sciences campuses in the world. Its diversity stems from the wide spectrum of areas of research and development undertaken. Its integration comes from repository, laboratory research, pre-clinical research, clinical research and manufacturing facilities; all located in the same campus.
Research
The Dhirubhai Ambani Life Sciences Centre houses research labs over 120,000 sq ft of space and has the following laboratories:
Molecular Biology
Cell Culture
Fermentation
Downstream Purification
Virology
Molecular Medicine
Regenerative Medicine
Bioanalysis
API Development
Analytical Development
Formulation Development
Peptides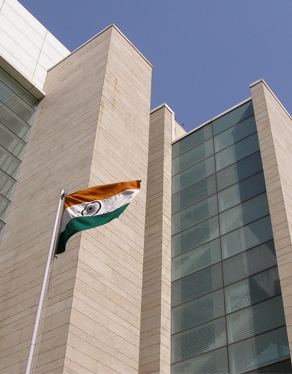 Dhirubhai Ambani Life Sciences Centre
These labs are supported by on-campus utility systems for power, water, HVAC and gases.
Reliance Life Sciences has established South Asia's first and most advanced stem cell enriched umbilical cord blood repository. This is the first cord blood repository in the country to be accorded a licence by an official regulatory authority, Food and Drug Administration (FDA), Government of India.
Pre-clinical facility
Reliance Life Sciences has established a state-of-the-art, barrier-maintained animal facility for breeding and experimentation on small animals to meet internal, as well as client needs. The facility breeds and maintains animals in individual ventilated cages (IVC) and conforms to the guidelines outlined by the Committee for the Purpose of Control and Supervision of Experiments on Animals (CPCSEA).
It is the only facility in India designed to carry out experiments on immuno-compromised animals in a class 10,000 facility.
In the in-vitro facility, in addition to the general in-vitro toxicity studies, the facility is capable of handling cell based efficacy studies.
Cord Blood Processing
Manufacturing
Capabilities
Reliance Life Sciences operates two biopharmaceutical manufacturing facilities in its Navi Mumbai campus. The first biopharmaceutical manufacturing facility has state-of-the-art stainless steel microbial and mammalian cell bioreactors to manufacture Drug Substances (DS). In addition, it has a Drug Product (DP) facility for vials (liquid and lyophilized), pre-filled syringes (PFS) and cartridges. The second biopharmaceutical manufacturing facility has state-of-the art, single-use, disposable bioreactors to manufacture DS.
Reliance Life Sciences houses manufacturing facilities for oncology Active Pharmaceutical Ingredients (APIs)) and Key Starting Material (KSM), oncology formulations (oral solid dosages and injectable), hyaluronic acid formulations, oligonucleotides, peptides and general injectable formulations.
Reliance Life Sciences manufactures plasma proteins products at a commercial scale in cGMP compliant facilities. Reliance Life Sciences is capable of manufacturing products from both plasma as well as intermediates.
All these manufacturing facilities conform to Indian FDA, WHO-GMP, EMEA and USFDA standards. All documentation and records of manufacturing activities are on 100% digital mode with the help of electronic systems for end-to-end operations up to batch release.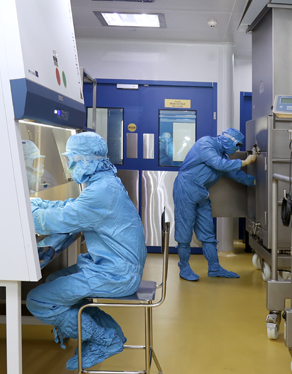 cGMP Manufacturing
Cell Processing
Reliance Life Sciences has four cGMP cell processing suites in operation in Mumbai to meet clinical trials for cell-based therapies and initial market introduction.
Quality Control
Reliance Life Sciences has state-of-the-art quality control facilities, which include stability chambers and microbiology suites.
The quality control laboratory for biopharmaceutical products is NABL accredited and approved by FDA Maharashtra. The quality control team is committed to provide high quality, safe and effective chemical and biological testing services to meet expectations of the healthcare community and customers.
Clinical Pharmacology
Reliance Life Sciences operates a Bioavailability/ Bioequivalence facility with two clinics (40 beds in each clinic). This facility is supported by an in-house pathology laboratory and bioanalytical facilities.