Businesses - Clinical Research Services
Clinical Research Services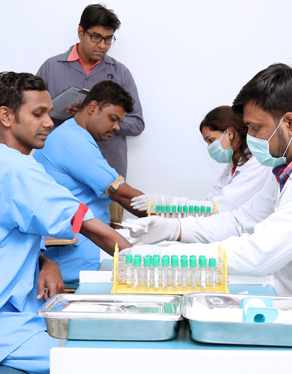 The Clinical Research Services (CRS) group of Reliance Life Sciences is a full-service contract research organisation (CRO). The Group aims to provide world-class, technology-driven clinical research services to pharmaceutical, biotechnology and medical device companies.
Service offerings
Sponsors have the flexibility to choose from the full-range of services to meet their study needs. The staff has the capabilities to design, plan and manage every aspect of a study with proficiency.
Experience
Reliance Life Sciences offers a team of professionals with an in-depth and broad range of therapeutic experience. The team has a diversified, yet strong line of therapeutic experience in successfully conducting multiple studies in fourteen therapeutic domains.
Facility
The research facility in Navi Mumbai is spread over 120,000 sq ft area and comprises OECD GLP certified pre-clinical lab, state-of-the-art 80 bed clinic, and a bioanalytical laboratory operating as per GLP principles. The in-house medical writing, pharmacovigilance, regulatory affairs, central lab, data management and statistics teams complement the clinical study facility to provide a one-stop shop for all the study requirements. Data from studies conducted at the facility have been submitted to several regulatory authorities worldwide.