Business-PlasmaProtein-Pedialb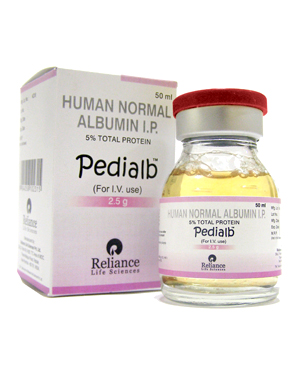 Pedialb™ is human normal albumin, manufactured from pooled human venous plasma using Cohn cold ethanol fractionation process. Pedialb is heat treated at 60° C for 10 hours at bulk level and also at final product stage to make it virus safe. The final product is released for use after the viral marker test.
Albumin is a highly soluble, globular protein, accounting for 70 % – 80 % of the colloid osmotic pressure of plasma. Albumin also functions as a transport protein and binds to naturally occurring, therapeutic and toxic materials in circulation.
Albumin therapy is recommended in children for indications like hypovolaemic shock, hypoproteinemia and burns.
Pedialb™ is available as 5% intravenous solution in vials of 10 ml and 50 ml. It has to be stored at or below 25°C. It should not be frozen and should be protected from light.